This is a blog that introduces contemporary art works that can be hung in your home.
I would like to share with you the joy of incorporating art into your daily life.
I hope that by looking at the artworks and artists, you will be able to encounter a special piece of art for yourself. 
For this interview, I talked to Ken Asahina and Naoko Goko, who are leader and vice leader of Shonan ART BASE.
The art class that they run at their home is different from a typical painting class.
It is not a teacher↔️ student relationship, everyone is a creator.
The class is an exercise in expression, starting with the three elements of "a sense of touch, a sense of movement, and a sense of weight," which are then transformed into a line.
It is not a matter of how good or bad you are, but rather what you feel, what you discover, what comes to your mind, whatever you feel, try to draw it, and if you find it refreshing, then it is a great success.
This was a place where I could express myself peacefully and observe everyone else's expression peacefully.
Watch the video to see how a place with high "psychological safety" is created through expression!
YouTube
Thank you for watching my video.
For more information on their activities, please visit the Shonan ART BASE website.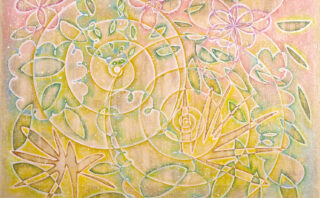 ありのままでいられる場 Shonan ART BASE 丨 湘南アートベース
『ありのままでいられる場 Shonan ART BASE 丨 湘南アートベース』のビジョン 『いのちよろこぶ社会』を目指します。 ・・・すべての人が、こころから「生まれてよかった」、与えられたいのちが「生かされている」、と思える社会です。毎日の暮らしがよろこびとなる役目(こうありたいと自分で決めた理想像)に出会い、それ...
There is a newsletter that Mr. Asahina publishes regularly on their website.
There are also descriptions of memory sketches in it.
---
Click here to watch a video about Ken Asahina's work.↓
「From one of a contemporary art studio. No.7」
Ken Asahina's profile, concept, etc. are here.↓
Ken Asahina's works are here.↓
Click here to see Naoko Goko's recitation.↓
Art × Creative Recitation【YouTube】Coming Soon
Click here for Naoko Goko's biography and other information ↓.
Art × Creative Recitation 【Blog】Coming Soon
Afterword
In my personal case, my three children attend typical Japanese elementary, middle, and high schools.
It is difficult to imagine that they are experiencing a sense of psychological safety at school.
Of course, there are enjoyable moments, and it is an important place of learning.
However, due to the fact that they are going through adolescence, it seems that they are somewhat skeptical and uncomfortable with their friends and teachers, even after taking that into account.
Upon reflection, I wondered if I had provided a "safe space" at home where they could feel accepted no matter what they said.
If we value diversity, perhaps it should start here.
I hope that the activities of "Shonan Art Base," which fosters such an environment, can be conveyed to you who are reading this, and can serve as a catalyst for something positive.
Upcoming exhibitions, which are opportunities to see Ken Asahina's works in person, are listed above under 「Artist Ken Asahina」 or 「Ken Asahina Artworks」as needed. Why don't you come and experience his works at the exhibition!
---
Enjoy contemporary artworks in your home or office!
Please contact us if you have any questions about our work or if you would like to exhibit works.
If you have any questions about our works, please feel free to use the inquiry form on the Top page. We look forward to your comments.
Thank you for reading to the end.
Have a good encounter with a work!
This was DE art.
---
Cooperation : Shonan ART BASE
---
The copyright of the work is owned by the artist. Please refrain from reproducing or reprinting images without permission.
Translated with www.DeepL.com/Translator (free version)