An event for those who love making things, antiques, and finding favorites!
Vlog on the "TOKYO NOMINOICHI" organized by TEGAMISHA!
This is an extra edition, more as my personal fun times than DE art.
Video of the TOKYO NOMINOICHI Vol.19 held by TEGAMISHA from June 2 (Fri.) to June 4 (Sun.), 2023.
Vlog
Thank you for watching my video.
I could not introduce this time, but there were many fun contents, live performances, and workshops.
One of the fun contents is a "barter book".
Each wrapped book is accompanied by a few words from its owner. You choose a book that strikes a chord with you based on these words, add your own words as well, and leave the wrapped book behind.
It is an exciting project.
Here is a little more information about TEGAMISHA.
TEGAMISHA is a way of being that I sympathize with and admire. I hope to one day open a store so that DE art can also experience contemporary art close to home.
TEGAMISHA
What is TEGAMISHA?


We are an editorial team. Currently, we are carrying out our work with three pillars of "events," "miscellaneous goods," and "café," but we do not make clear distinctions among them. We take something that we feel is exciting, edit it in a way that only we can do, and present it in a package that will make people more excited. That is what we do.

"Adapted from "How TEGAMISHA creates its events"
There will be no public call for applications.
There were 253 stalls over the three days of this year's Tokyo Flea Market, and 27 live performances and performances over the three days.
These are the chosen ones who were sought out, negotiated with, and opened stalls by the Letter Company members.
We respect the makers and feel a sincere desire to shine a light on good things.
For this reason, the vendors also take pride in the event.
Other Letter Company events include the "Nuno Expo," "Paper Expo," and "Momiji Market," where similarly selected makers can have a place of activity.
When looking for makers specializing in textiles, fabrics, and handicrafts, they noticed that many of them were graduates of Tama Art University and Tokyo Zokei University, and eventually students began to pursue "Nuno Haku" while still in school.
— — — — — — — — — — — — — — — — — —
TEGAMISHA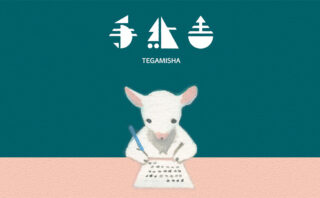 手紙社
手紙社は東京都調布市を中心に、カフェ、雑貨店、書店、ビール醸造所など様々なお店があります。また、雑貨や文具を取り扱うオンラインショップの運営やWEBマガジンの連載もしておりますので、ぜひお楽しみください。
TEGAMISHA "TOKYO NOMINOICHI"
2023年の「東京蚤の市」は、6月2日〜4日と11月3日〜5日に開催決定!|手紙社
手紙社は東京都調布市を中心に、カフェ、雑貨店、書店、ビール醸造所など様々なお店があります。また、雑貨や文具を取り扱うオンラインショップの運営やWEBマガジンの連載もしておりますので、ぜひお楽しみください。
— — — — — — — — — — — — — — — — — —
An episode of reunion with a friend
Twenty-three years ago, I was a fourth-year student at an illustration school in Tsukiji called "Palette Club.
At the time, I longed (and still longs) to work in book binding, and I was learning by drawing illustrations.
Although I no longer keep in touch with the friends I met there, I still find their works and support them; I follow them on social networking sites and look forward to their works.
I recently saw a solo exhibition by an alumnus. It was interesting and I really wanted to see his work up close.
I took a chance and contacted him, and he remembered me, so I contacted some of the 4th graders and we agreed to meet.
I told them about the "Tokyo Flea Market" that was coming up soon, and we decided to go and meet some of our classmates who were opening stalls.
I was surprised at how short 23 years can be, but I guess time flies when you see each other. We had a good time, just as we did back then.
It was good to talk about the hardships of creating artworks, upcoming exhibitions, and other things that we had been accumulating.
Artists are often unable to continue creating due to the environment, motivation, and other factors.
It is not possible for everyone to continue creating. In such a situation, it was encouraging for me to see them again and to see their works.
Above all, I am most happy to be able to continue to see their works.
I will continue to support them!
Thank you for reading to the end.
Have a good encounter with the artwork!
It was DE art.
— — — — — — — — — — — — — — — — — —
Translated with www.DeepL.com/Translator (free version)