Continuing from the previous article, I would like to introduce the artist, Mrs. Taiko Horiguchi.
"Kina" a work in which a sculpture of the human body is wrapped in [Kanreisha].
[Kanreisha] is a cloth made of woven threads of hemp or cotton woven into a rough, plain weave.
The word "Kina" in Taiko Horiguchi's work is taken from the word [Okina (old man)] and is used as a [human form].
The artist begins by creating an image through sketches and drawings.
She develops her concept in the drawing stage, whether it is to be expressed as a two-dimensional or three-dimensional work.
"Kina" is a piece of iron that took decades after she conceived it to be able to make it into a three-dimensional object.
It feels thin, long, even ephemeral.
Although the texture and atmosphere of these works are completely different from terra cotta, the theme of the artist's work remains the same "human beings".
Her two-dimensional and three-dimensional works are both awe-inspiring of the human inner, spiritual being through the human form.
YouTube
「From one of a contemporary art studio. No.5」
You can watch the video here!
↓↓↓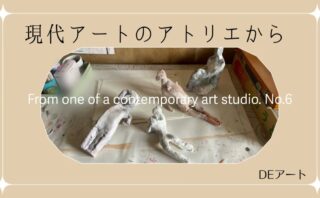 【アトリエ|Studio】現代アートのアトリエから No.6|From one of a contemporary art studio. No.6
今回は、現代美術作家 堀口岱子さんの作品「Kina」をご紹介しています。詳しくはこちら↓【Artist】 堀口岱子・Part 2 1— ...
Kina
"I admit that 2 x 2 = 4 is nice, but if we must praise everything, 2 x 2 = 5 is also attractive."  Dostoevsky
I was about to move out of my house when I felt a sentence from the history of surrealism, by Maurice Nadeau, somewhere in my body.
When the moving process is over and I look at the sculptures draped in fabric, I suddenly feel a stirring in my heart.
A mysterious impression. I circled around the cloth-covered sculptures, moving away from them, moving closer to them, coming and going, "visible and invisible," "conscious and unconscious," "false image and real image," "dream and reality," the cloth-covered sculptures strongly entered my mind and shook my blurred emotions so strongly that there was no way to stop the vibrations. I realized that the naked sculptures were all covered with a set of translucent fabric.
This work was born from such an unrelated beginning.
I believe that the creation of a work of art should be done with clear thought, reason, or a unique image of beauty. But this is entirely from the public to the individual.
Even the clear landing places, "unconsciousness rather than awareness," "dreaming rather than logic," are as vague as a Kitsunebi.
When even the slightest value is covered by the cloth, the suffocating spirit is comfortably released, and the sensibility can be used as it is. 
I would be happy if these sculptures, transformed from "outside to inside" and "dreaming to action," could be my words (soul to soul) to you.
Taiko Horiguchi
Reference:
Taiko Horiguchi Solo exhibition "Kina" (cafe RITZ / F-ritz art center, 2007)
Biography
Solo Exhibitions
1992  Gallery Moteki(Ginza)
1994  Gallery Moteki(Ginza)
1996  Gallery Moteki(Ginza)
1997  Space U (Tatebayashi)
1998  Gallery Moteki(Ginza)
2007  cafe Ritz (Maebashi)
2015  Maebashi Art and Culture Rengagura (Maebashi)
Many group and public exhibitions
Special exhibitions
2011  The rising generation 9, Taiko Horiguchi, Ayako Mizumura
     Shibukawa Art Museum・Hiromori Kuwahara Sculpture Museum(Shibukawa)
2013 – 2021  
     The rising generation special project vol.1.2.3.4.5 What you see inside the box
     Shibukawa Art Museum・Hiromori Kuwahara Sculpture Museum(Shibukawa)
---
Enjoy contemporary artworks in your home or office!
Please contact us if you have any questions about our work or if you would like to exhibit works.
If you have any questions about our works, please feel free to use the inquiry form on the Top page. We look forward to your comments.
Thank you for reading to the end.
Have a good encounter with a work!
This was DE art.
---
The copyright of the work is owned by the artist. Please refrain from reproducing or reprinting images without permission.
Translated with www.DeepL.com/Translator (free version)