I am happy if getting to know the artwork and the artist will lead you to an encounter with a special piece of art for you.
I hope to convey to you the pleasure of decorating your home with contemporary art and incorporating art into your daily life.
In this video, I introduce "the 7th Gallery SUDOH Collection Exhibition ".
ー The exhibition held from September 18 (Sun) to September 24 (Sat), 2022ー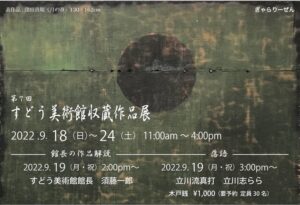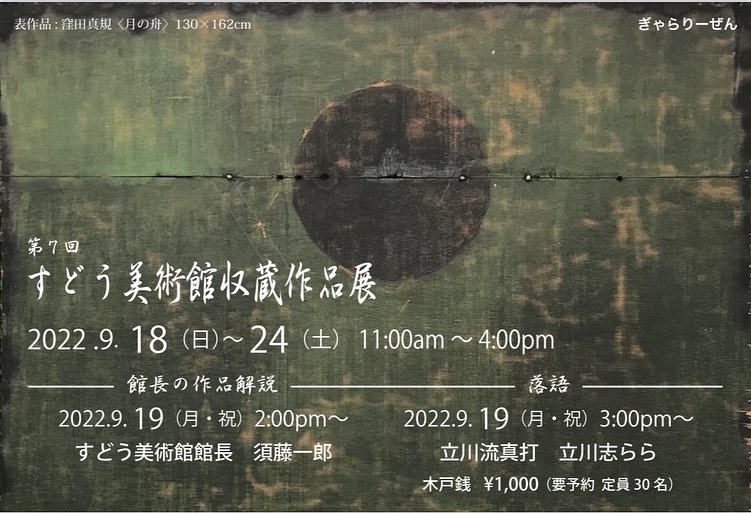 Venue: Gallery Zen
Enjoy the exhibition in video
Thank you for watching the video.
Collection exhibitions have a different atmosphere than solo or group exhibitions.
Many large museums display their collections in permanent exhibitions.
I believe that the museum collects historically valuable works and works by artists who are active today, based on its own rationale.
It is a little different when collectors collect.
I feel that it has more to do with taste and artists.
In this case, the works were collected by the director and deputy director of the Gallery SUDOH.
The techniques and materials used varied from prints to oil paintings to mixed media, but they were all two-dimensional works in the exhibition.
In the "Director's Commentary," we heard about episodes with the artists.
Here are some of the episodes there.
One day, Masami Kubota said that he wanted to create a work of art for the director, and the director readily agreed, although he thought, ("I don't want to have a lot of holes in my face…").
The work he is holding in his hand in the video is one of his most cherished works, and he often hung it in the director's office.
Genichiro Inokuma was related to Sokichi Suga, the painter who inspired the collection, and he passed away just as the director was about to go talk to him.
Genichiro Inokuma was the only artist whose work was in the exhibition that the director had not met.
Purchasing a work of art involves a drastic decision.
There is a story in each of them, an encounter with a work of art and an encounter with an artist.
It is fun to know its story as a way to enjoy the collection exhibition.
Of course, it is also fun to enjoy the works purely for their artwork.
Enjoy contemporary artworks in your home or office!
Please contact us if you have any questions about our work or if you would like to exhibit works.
If you have any questions about our works, please feel free to use the inquiry form on the Top page. We look forward to your comments.
Thank you for reading to the end.
Have a good encounter with a work!
This was DE art.
Cooperation: Gallery Zen、Gallery SUDOH
Camera/Edit:DE art
The copyright of the work is owned by the artist. Please refrain from reproducing or reprinting images without permission.
Translated with www.DeepL.com/Translator (free version)