I would like to introduce the artist, Mrs.Taiko Horiguchi.
After graduating from high school, she worked at her uncle's design company using an airbrush to create posters, and later entered the Art Junior College.
After graduation, she continued to study art, art education under Mr. Akio Ida, painting under Ms. Taeko Maruyama, and sculpture under Mr. Jo Sakate.
90's, she is inspired by her interaction with contemporary artists.
She has continued to present and develop her works, including human sculptures, two-dimensional works, and installations.
Many of her works are based on human figures, and she said,
"Why did the human form turn out like this? I'm always thinking about it while I'm making them."
"I don't show the whole form, but I think about the spiritual half hidden inside."
In a soft tone of voice.
I met with her for the first time in a while and asked her about her works and herself.
I hope you will read the text along with the video, so that you can get a closer look at the work.
She is as charming and passionate about art as she has been since I met 25 years ago at Space U.
Please see her biography in Part 2.
YouTube
「From one of a contemporary art studio. No.5」
You can watch the video here!
↓↓↓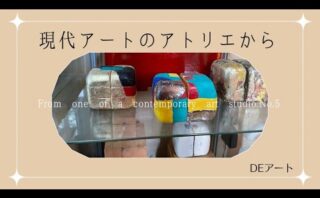 【アトリエ|Studio】現代アートのアトリエから No.5|From one of a contemporary art studio. No.5
今回は、現代美術作家 堀口岱子さんの作品「守破離雛」をご紹介しています。詳しくはこちら↓【Artist】 堀口岱子 Part 1 2:— ...
Shuhari Bina
Shuhari is a term used to describe a process in the performing arts and Budo (martial arts).
Begin by following the teachings of your predecessors, then break the format once you have mastered it, and finally develop your own unique style, and establish your own style away from the format.
The Hina dolls were to be of an unprecedented shape.
It is a terra-cotta sculpture with an unprecedented production method.
They named it Shuhari Bina, which also means breaking the old and creating the new.
She said that she was able to do this because she is not a potter, and that someone who knows ceramics well would not have done this.
It is dangerous to fire thick pure clay because even a small amount of air in the solid clay will cause it to explode when fired.
Teacher who a potter at the class she was attending at the time, also told her it was reckless, but she wanted to give shape to her idea and tried to find a way to create it.
It takes a month to complete one piece, but she has succeeded in baking it using a unique process.
However, the success rate was 50%, as the pieces were filled with air and exploded, or the shape was distorted and the small cube inside could not fit.
It was hard work, but she bought an electric pottery kiln at home and enjoyed the production so much that she got hooked on it.
When it was decided to present the work at a solo exhibition, the gallery suggested that she should get a patent for it, so she applied for one.
It was recognized as a unique method of creation in the world, and Shuhari Bina was granted a patent as "Method of Creating Terra Cotta Sculptures."
When the cube is opened to show the inside, it contains a small cube like a seed.
When it is placed on top, it becomes a doll's head, and when it is put back inside, it looks like a child in the womb.
The colors and patterns are different on the outside and inside of the cube, so you can enjoy this work in many different ways depending on how you place it.
Among the works of the artist, who lives with a sense of "inside and outside," "X and Y," "man and woman," and "life and death," and reflects them in her works, this lovely piece has a playful feel to it.
There was a time when she created a white series, a black series, a flower series, and so on, with a theme for each year.
If you are interested, please contact DE art.
Enjoy contemporary artworks in your home or office!
Please contact us if you have any questions about our work or if you would like to exhibit works.
If you have any questions about our works, please feel free to use the inquiry form on the Top page. We look forward to your comments.
Thank you for reading to the end.
Have a good encounter with a work!
This was DE art.
The copyright of the work is owned by the artist. Please refrain from reproducing or reprinting images without permission.
Translated with www.DeepL.com/Translator (free version)